What We'll Cover
Overview

Page Filter (Only Show)

Actions

Content Types

Users

Date Restrictions
---
---
Overview
The Activity Log tracks any saved user activity within the Web Office Admin.
This page can be found in the Web Office Admin by navigating to Security > Activity Log.
On the Activity Log page, there are sections that reflect adjustments to resources. These show a high-level view of the activity that was made on the resource.
Expanding the activity will show the resource settings, including all the custom configuration.

Contracted view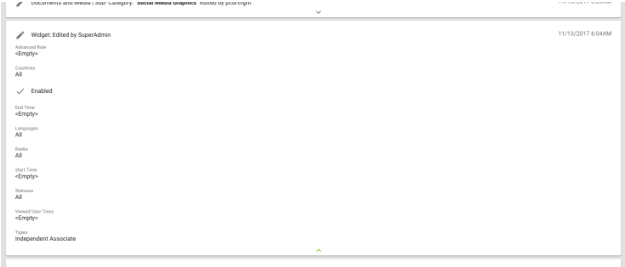 Expanded view
The admin user is given the tools to research historical changes.
E.g., if a change was made last month you can search by action type, content type, which user made the change, or date restrictions.
---
---
Page Filter (Only Show)
The Page Filter will help narrow down specific changes that have been made. The activity log only loads the 200 most recent entries as default, so the filter can be used to look at earlier history.

---
Actions
The Actions represent the different types of activity that was performed.
An easy way to spot the action type is by recognizing the icons:

An easy way to spot the action type is by recognizing the icons:
Add

Edit

Delete

Sort

Publish

Translation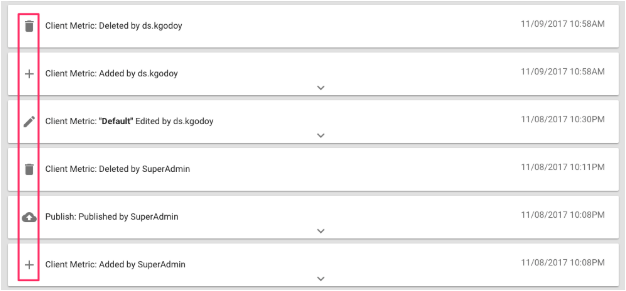 ---
Content Types
Content Types are the resources that can be edited. If the user is looking for a change made on a banner, they would filter by Content Type = Banner.

---
Users
Users can filter by changes made by specific admin users. All active accounts are listed in the drop down.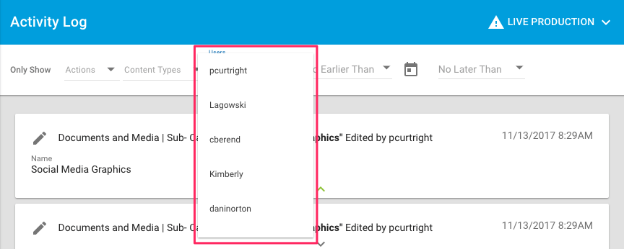 ---
Date Restrictions
Users can use the date selectors to find changes made within a certain time period.
No Earlier Than, No Later Than.