What We'll Cover
Share Options

How to Add Share Option

Blocked Words for Personalized Web Alias

How to add Blocked Words
---
---
Share Options
Share Options are added to give users the ability to share information easily through different personal channels. The option list will show in the Web Office when sharing Documents and Media, Testimonials, and on the Marketing Sites widget.
---
---
How to Add Share Option
---
Step 1
Navigate to the 'Miscellaneous' page in the Web Office Admin: Web Office Configuration > Miscellaneous.
---
Step 2
Click Add Share Option at the bottom of the section.
Note: This will open a pop-up on the page.
---
Step 3
Choose a share option from the Name dropdown (list of pre-approved options).
---
Step 4
Refer to the configurations training page to customize the rest of your item (Countries, Languages, User Types, Published, Always Show, User Statuses, User Ranks, Custom Configuration).
---
Step 5
Once all required fields are completed, save the Share Option.Reminder: The option will only show in the Web Office for the logged in user if it is published and the correct configuration settings are in place.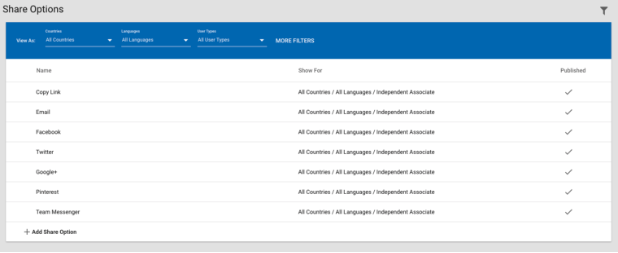 Web Office Admin view.
---
---
Blocked Words for Personalized Web Alias
When new users sign up with a client, they create their own unique username. There may be words that the client would prefer aren't used within their username (i.e. company name, vulgar or offensive words, names of diseases, etc.). Adding blocked words helps eliminate the use of these words in personal replicated sites and usernames.
Use of blocked words during enrollment will restrict submission of the order. The user will get an error and be prompted to use a different web alias.
During launch, DirectScale implements a general list of blacklisted words. This section allows the admin user to enter any restricted words custom to the client.

*Enroller view.
---
---
How to add Blocked Words
---
Step 1
Click in to the text box on the page.
---
Step 2
Type the blocked word.
---
Step 3
Press Return/Enter. This will create a tag.
---
Step 4
Enter as many blocked words as desired.
---
Step 5
Click Save.

Web Office Admin view.
---
---