DirectScale is a SaaS solution for Multi-Level Marketing companies. With this introduction, we wanted to highlight some exciting features specific to our industry-leading commissions platform, empowering you and your Associates to Run, Know, and Grow your business. Let's get started.
A Rule-based Engine
At the heart of DirectScale sits our paramount commissions engine. This is a Rule-based engine; meaning, you can intuitively create different Rules or "options" that describe the cause and effect of various compensation plan events. The system cycles through each Rule to see if Associates meet the defined Conditions. Once an Associate meets the conditions, it awards volume, bonus, a new Rank, or a payment.
On top of the commissions engine rests the Corporate Admin that serves are your center of business for administrative tasks, such as Inventory creation, Sales tracking, reporting, Associate CRM, and employee management.

Your Back Office Experience
A vital component of the Direct Sales industry is replicated back offices and provided to you as part of your Platform is the Web Office. The Web Office is your Distributor Associate's base of operations to create orders, track their sales, manage their team, and much more.
Use the Web Office Admin to:
Editing Compensation Plans
From the very beginning, DirectScale's philosophy was to empower our clients. You don't have to go to a compensation plan developer or a consulting team because DirectScale's compensation plan system is easy to use and edit via a robust in-app compensation plan editor.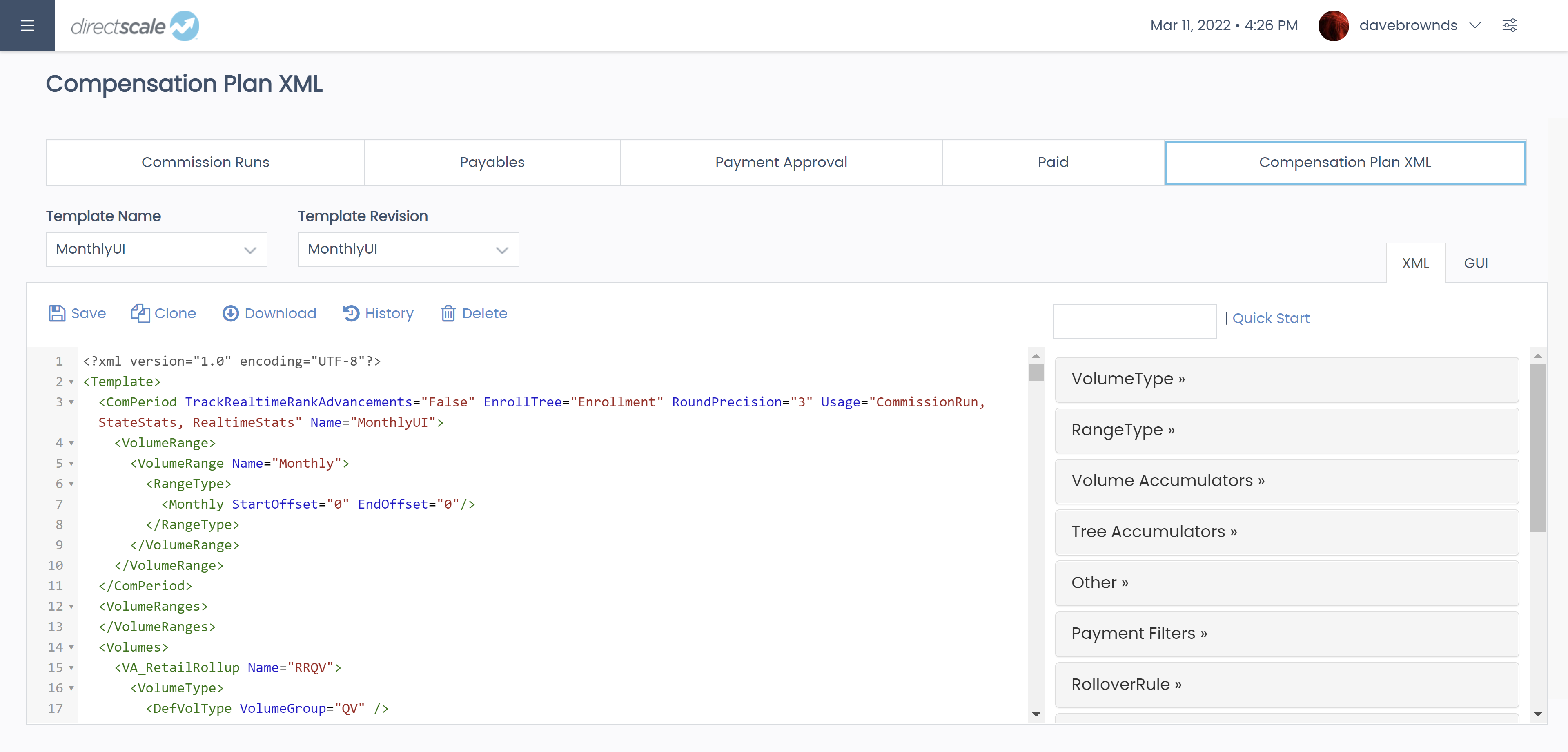 This editor is where you create or edit your commission template using XML. We've created the schema based on common compensation plan elements. It features simple version control with the option to create multiple revisions to test. Now, on the sidebar, a variety of helper documentation defines the elements and offers quick snippets. You can then use the template to model commissions before paying out, so you can feel confident that the change you're making will work.
Modeling & Testing Your Compensation Plan
DirectScale gives you the keys to your compensation plan and the ability to model the changes. There are excellent compensation plan resources right in the app that allow you to walk through the plan, try it out, and ensure it will pay out as you expect. One of these tools is a commission profile with which you can run your compensation plan with actual data to see how the numbers turn out.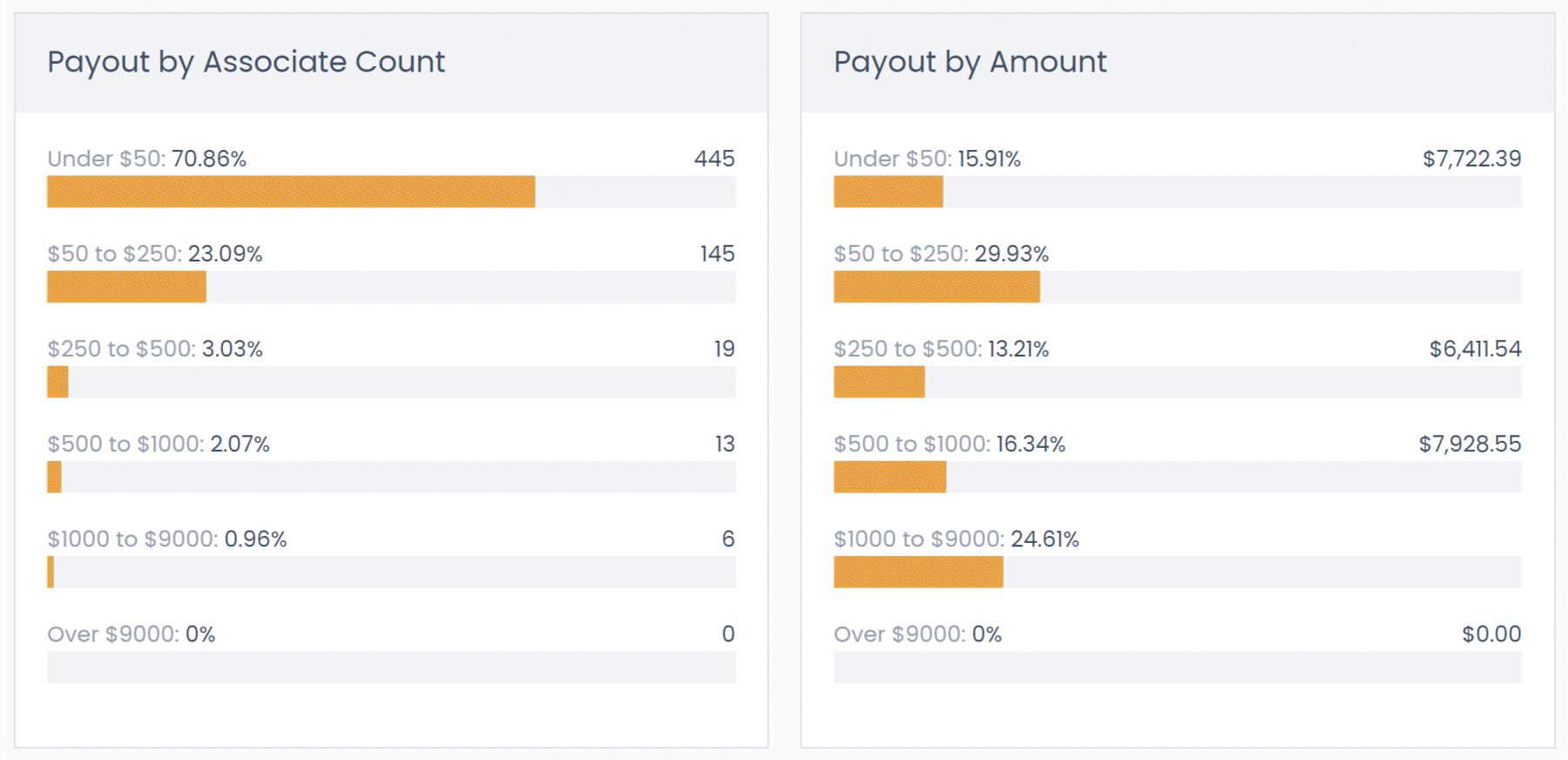 You can create multiple profiles for different compensation plan revisions, allowing you to iron out different strategies and gain confidence that you're paying out the correct amount. Within the profile are comprehensive auditing tools providing a granular view of each Associate's bonuses and payments.
Building the Report You Need
Next, let's look at some of the excellent reporting tools you have at your disposal. You'll find more than 50 pre-built reports created by DirectScale to provide your company with valuable data for business intelligence. Some great ones include:
Associate Top Earners (last 6 Months) report, for Associate recognition

The Revenue Monthly Growth % (current & last year) report, for Business analysts
Use these reports as-is or as a starting point for something even better. You can use SQL to craft complex queries to create reports on nearly any data set in the system. All reports can be exported as CSVs so you can load them into software outside the system.
Multi-Faceted Customization Options
Lastly, we wanted to highlight another unique feature to DirectScale that provides a rich, curated experience for your Associates, and that is Multi-Faceted Configuration. MFC is a set of parameters that allow you to control who can see, or has access to, specific page elements in an Associate's Web Office site. Elements like a banner, navigation link, or widget.
For example, You can set up a banner to show only on Memorial Day to users of a certain status, living in the US, who speak Spanish. Or, you can create a custom page that only shows to users of a certain rank. Additionally, you can apply logic to target specific data points. MFC gives you control over your content.
All of these elements work together to form the DirectScale Platform. The following image demonstrates this:
With DirectScale, the power is in your hands. But it's important to note that although you're in control, you're not alone. We are always here for you with our in-house compensation plan programmers and a consulting team that can guide you to extend your system in nearly every way you want. Thanks for visiting, and we hope you stick around.